Cataracts are a fairly common condition that can seriously impact the quality of one's vision, especially later in life. Your eyes see by taking in light through organic lenses...but when those lenses get clouded over or obscured, your vision will suffer. This condition is known as cataracts, and often sets in progressively, coming on over time as your vision gets worse and worse. The condition isn't painful, but it can cause a serious impact on one's quality of life, if left untreated.
At the Beverly Hills Institute of Ophthalmology, we offer monofocal intraocular lenses (also known as IOLs), which work to restore your eyesight. You'll need to pick a focal length, as these lenses only allow for clear vision at near or far distances, but not both. With monofocal IOLs, many patients have clear vision at a distance, but require glasses for activities like reading. Reach out and set up a consultation to learn more about IOLs today!
How Do I Know if I Have Cataracts?
Cataracts often develop gradually and painlessly, so one of the first signs will be your vision beginning to cloud over, making it appear as though you're seeing the world through a dirty or cloudy window.
Some of the main symptoms include:
Double vision
Poor vision in bright light
Yellow-tinted vision
Difficulty seeing at night
Blurred vision
Hazy vision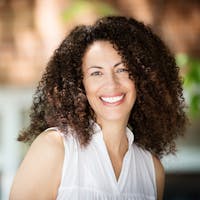 Standard IOL: Restore your Vision after Cataracts
This common IOL type has been used for several decades. Most people who choose monofocal IOLs have their IOLs set for distance vision and use reading glasses for near activities. Alternatively, you may choose to have the IOL correct for near vision, and then use glasses to see distant objects clearly.
Some who choose monofocal IOLs decide to have the IOL for one eye set for distance vision, and the other set for near vision, a strategy called "monovision." The brain adapts and synthesizes the information from both eyes to provide vision at intermediate distances. Often this reduces the need for reading glasses.
Individuals considering monovision may be able to try this technique with contact lenses first to see how well they can adapt to monovision. Those who require crisp, detailed vision may decide monovision is not for them.
Learn more at Get Eye Smart.