If you suffer from open-angle glaucoma, iStent and iStent Inject may be an option for long term relief without dependence on expensive and troublesome medications. These revolutionary stents provide a drainage pathway to reduce IOP (intraocular pressure) by providing pathways for optical fluid to drain.
What is glaucoma?
Glaucoma is a group of eye diseases characterized by excessive intraocular pressure (IOP) that results in damage to the delicate optical nerve. It is often referred to as the "silent blinding disease" because symptoms do not usually manifest until its later stages, at which point you are at severe risk of permanent vision impairment or blindness. While the exact causes of glaucoma are not known, it can be detected with a routine eye exam from an ophthalmologist, and treatment options to manage the condition can prevent or slow the damage to your vision.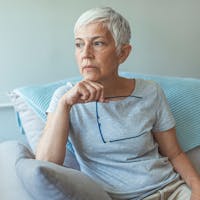 The benefits of iStent Inject
Relying on eye drops to reduce IOP can be expensive and difficult, and you still maintain the risk of damage if the medication fails to work, you run out, or you forget to use it. iStent Inject is a long-term solution to this problem that improves fluid flow, reduces pressure, and reduces reliance upon medication. Some of the benefits include:
Minimally-invasive procedure
Short recovery time
Two stents installed in one quick procedure
Effective results
Can be done as a standalone procedure or in conjunction with cataract surgery
iStent vs. iStent Inject
If you suffer from open-angle glaucoma, there are many treatment options available to you. For many, the best option is the use of a stent, which is inserted in the trabecular meshwork of your eye to provide a permanent route for fluid drainage. Both iStent and iStent Inject work in a similar fashion to a heart stent – they provide open access for flow when a vessel or capillary has become clogged or collapsed.
iStent
The iStent is a first-generation product that is inserted as part of cataract surgery. A majority of men and women who suffer from cataracts also suffer from glaucoma, which makes a perfect option for those already undergoing surgery. This unique product is a tiny titanium tube that is 1 millimeter in size that is surgically placed into the damaged meshwork that would otherwise allow fluid to drain.
iStent Inject
iStent Inject is an advance on the original iStent, and it is the smallest FDA-approved medical device on the market today. Unlike the original iStent, the iStent Inject is actually two stents carefully inserted into your eye – and it can be performed as a standalone procedure or in combination with cataract surgery.
Am I a candidate
for eye stents?
You may be a candidate for iStent or iStent inject if you suffer from:
Open-angle glaucoma
Pseudo-exfoliative glaucoma
Pigmentary glaucoma
Why choose Beverly Hills Institute of Ophthalmology for glaucoma treatment?
Your vision is one of the most fundamental and vital factors that influence your quality of life, and our team of talented, renowned, and skilled ophthalmologists contains some of the top physicians in the field. We have decades of experience and have garnered a reputation as the premier center for top-level eye surgery, providing second-to-none concierge service.