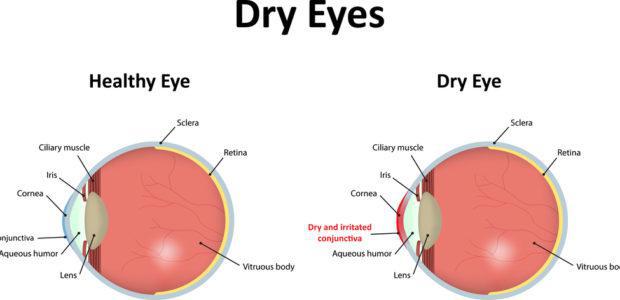 Not a Dry Eye in the house!
Dry eye syndrome is a common cause of eye irritation, mainly affecting older people. Artificial tears, gels and soothing ointments usually ease symptoms. Dry eye syndrome or simply dry eyes occurs when there is a problem with the tear film that normally keeps the eye moist and lubricated.
Dry eye syndrome can affect anyone, but it becomes more common with increasing age. Dry eyes affect about 15 to 35 in every 100 people or possibly as many as a third of older people and women are affected much more often than men. One of the big contributing factors with the aging process is that people tend to make fewer tears, as they get older. In particular, some women notice dry eyes developing after menopause. Another cause is having a low blink rate, often combined with opening your eyes wider than normal due to spending a long time looking at a computer or watching television.
The symptoms of dry eyes include eyes feeling gritty or burning and slight blurring of vision from time to time. Also, a person may feel discomfort when looking at bright lights and if a contact lens wearer can start to find wearing them causes discomfort.
A BHIO physician can usually diagnose dry eyes from the symptoms and perform a test to confirm the diagnosis of dry eyes. The treatment for dry eyes is usually eye drops and gels. These are good at relieving the symptoms. More information is available at Beverly Hills Institute of Ophthalmology or www.90210eyes.com