Technological advances have given us a number of incredible procedures that can help us to restore diminished eyesight, but laser surgery is not always an option for every patient. When vision correction through laser surgery isn't an option, refractive lens exchange, also known as RLE, is often a popular option among patients. This procedure simply replaces the natural lens of the eye with an artificial one, allowing for clearer vision and the reduction of eyesight issues.
If you've been struggling with unclear vision, reach out to the Beverly Hills Institute of Ophthalmology and set up an in-person consultation today. We can help you find the treatment that's perfect for restoring your vision, and can help you maintain your eyesight for years to come.
About the RLE Procedure
Refractive lens exchange (RLE) replaces your eye's clear natural lens with an artificial intraocular lens (IOL) to correct visual conditions and achieve clear vision. RLE typically is for people with presbyopia (an age-related inability to see near objects clearly) or extreme farsightedness (inability to see near objects at any age), for whom laser vision correction is not suitable.
If you have both presbyopia and moderate to severe hyperopia, RLE may be the only viable option for clear vision and minimal reliance on glasses after refractive surgery. Often, people who have astigmatism (blurred vision caused by improperly rounded corneas) also are good candidates for RLE. Like Laser Vision Correction, RLE is performed on an outpatient basis under local anesthetic.
Types of Refractive Lens Exchange
Multifocal intraocular lenses are a kind of prosthetic lens that help to correct cataracts. Often, patients will undergo refractive lens exchange to have a multifocal intraocular lens placed before cataracts occur.
Presicion monovision is a way to correct presbyopia using a light adjustable lens. One eye is corrected to see near objects, and the other eye is corrected to see distant objects to the exact specifications for each individual.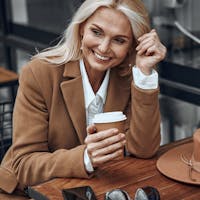 What's the Recovery Process Like?
We typically find that the majority of our patients who undergo refractive lens exchange at our Beverly Hills or Torrance locations are able to return to their normal, day-to-day lives as soon as one day after surgery. You'll experience something of an adjustment period as you get used to your new vision, and we might recommend that you take care to wear sunglasses a little more frequently than you normally would. These issues will fade away quite quickly, however, leaving you to enjoy your newly restored, clear vision. Reach out and set up an in-person consultation today, and learn more about how we can help you to see more clearly every day.